As I exited the grocery store on 236th Street and White Plains Rd last Friday, I noticed a group of people standing on the corner observing, and suddenly there was rapidly emerging police (NYPD) and fire department (NYFD) personnel.
The crowd and police activity grew quickly, and some people gathered in the store's parking lot to speculate as to what was happening. Indicative of the tone set in society, one woman stated that she thought there was a shooting, one thought it was a protest, and one thought the scene was due to an act of terrorism.
As it turned out, a group of young men had attacked another group of young men, and one of the men attacked was badly stabbed and had collapsed on the corner. According to further speculation of the group, the stabbing may prove to be fatal.
As things dwindled, and as the NYPD upper echelons had seemingly gone, I attempted to speak to the remaining officers to get some information, but that effort was thwarted by Officer Justin Venezia of the 47th Precinct, who let's just say was not the most cordial or professional person on earth.
While tragedies and crime scenes are always unsettling, the unprovoked belligerence of a police officer is even more unsettling, particularly in this day and age.
Oh well.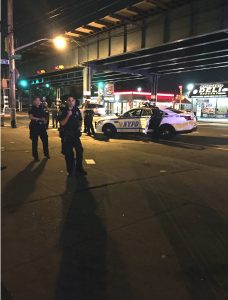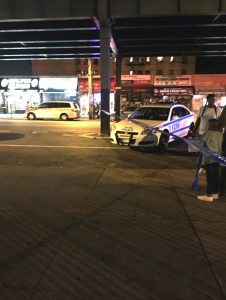 Sincerely,
Caprice